Meet The Off Leash K9 Team
Denise Bozenski - Director & Head Trainer
Denise Bozenski is the Director and Head Trainer of the Phoenix Off Leash K9 Training location.
Denise was born and raised in Westampton, New Jersey, which is a suburb of Philadelphia, and has spent her entire life around dogs. She and her family rescued basset hounds and volunteered with the local basset rescue there. After graduating with a Bachelor of Arts in Communications from Ursinus College, Denise pursued a federal law enforcement career with the United States Secret Service. This is where she met and worked with OLK9 founder and owner, Nick White.
When she wasn't spending countless hours on the Surveillance Team at the White House, Denise could often be found dog-sitting for one or more of her co-workers. Because of the long hours she worked and her living arrangements, Denise was unable to have a dog of her own, so she would take on the temporary role of dog-sitting for her co-workers when they would be called on work trips or vacations. From chihuahuas to English mastiffs, Denise was the go-to Mary Poppins amongst her peers.
After Denise left the Secret Service, she moved to Phoenix, where she continued her career in the security field for another 6 years, both in the private sector and for the state. Knowing it was something she was good at but tired of the same old routine, Denise realized she wanted to finally pursue her dream and work with dogs. Denise is excited to bring the same training techniques used by military and law enforcement to the Valley of the Sun, in order to achieve precise and flawless obedience to household dogs, 100% off-leash.
When Denise is not training dogs, she enjoys spending time with her dogs, Penny, Ari, Pearl, and Rhia! She also enjoys photography, baseball, storm chasing, and is a certified canine nutritionist!
Ali has been with Off Leash K9 since 2020. Her favorite part of her job is seeing dogs (and their owners) get to enjoy so many more adventures together! She has two personal dogs- Cash and Kaia, who she loves taking on hikes and camping trips. She absolutely loves all breeds but has a soft spot for huskies! She can't wait to meet you and your best furry friend.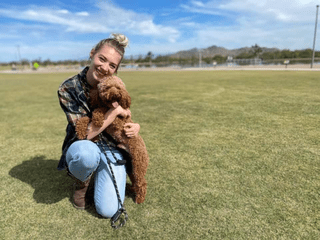 Tyler has been with Off Leash since 2020. His favorite part of the job is becoming friends with all the dogs he gets to work with! He has two personal dogs of his own, and loves watching them enjoy the freedom an off leash life gives them. He has a soft spot for Labs, Golden Retrievers, and Pittbulls and can't wait to meet your furry family member!
Mike Myers has been with Off Leash since 2020. Having multiple dogs gone through the training program before becoming a trainer, he says it's a way to pay forward how awesome the training was for his pack!
Mike's favorite part of the job is seeing the dog's transformations and growing in confidence.
Shanna Ewoldt's lifelong love and passion for animals were fostered as she grew up with pets ranging from rabbits to horses and started pet sitting at the age of ten.
After graduating from Alfred University with a BA in Biology and a Minor in equine science, Shanna spent 12 years working for multiple animal shelters in Maryland.
Nine years ago, Shanna adopted her first dog, a Rottweiler named Carter, and subsequently found Off Leash and her love for dog training.
Shanna has attended multiple seminars and studied under various trainers to grow and develop as a trainer. Shanna turned her passion into her job and joined the Off Leash family as a trainer in 2022.
Brie is an Arizona girl. She lived here for 11 years until her family packed up and made several moves around the US, including a mission for the LDS church in Colorado. Arizona was always home so after 16 years, she made the move back and is settled where she belongs.
Animals have been a staple in Brie's life starting with the family Akitas, numerous rescue/foster kittens, and one hot blooded Arabian horse. Brie worked as a professional pet sitter and dog walker when she was not able to have a pet of her own because she missed those slobbery kisses and cuddles from four legged friends.
When she was able to welcome her first puppy, a GSD named Tabolt, she wanted to do right by him. She worked with Off Leash K9 Phoenix and was thrilled with the bond the training helped them create. She got the training bug and never wants to stop! When a trainer position became available, she jumped at the opportunity.
Brie has been with Offleash since 2021. She has taken classes and worked with other trainers to improve her skills. She loves helping owners and their dogs improve their lives and relationships.
do you have questions for us?
Or Call to Schedule a free consultation today!
About Off Leash K9 Training
Dog Trainers Who Are Recognized Around The World!
Nick White is the Owner and Founder of Off Leash K9 Training.  Nick is a former US Marine and former US Secret Service. He currently has over 130+ dog training locations throughout the United States. 
Nick is globally recognized as being one of the top dog trainers in the world.  He has 2 official world records in off leash obedience, named on Wikipedia as one of the top 20 dog trainers in the world, recently named top 10 trainer in the world by bestdogtrainers.org, has been featured in many magazines and shows, and he is regularly requested by the top celebrities and athletes! He has been called upon by people such as actor Ryan Reynolds, WWE's John Cena, MLB All Star Max Scherzer, UFC World Champion Jon "Bones" Jones, and many more!
You can visit our YouTube Channel and watch over 1500+ before/after videos of Nick and his team's work!  Off Leash K9 Training has more documented videos than any dog training business in the entire world!